Mar 13 2016
"The Batote- Kishtwar Highway, connecting twin districts of Doda and Kishtwar with rest of the state, was closed again on Sunday morning when a huge landslide blocked the road at Ragi-Nullah – 21 km from Doda.
After remaining closed for 18 hours due to landslide and shooting stones at half-a-dozen places, the road was opened for traffic yesterday afternoon.
Today morning, a massive landslide and a huge boulder blocked the road near Ragi-Nullah on Batote-Doda stretch.
More than 150 passenger vehicles and those carrying essential commodities were stranded on both sides of the highway."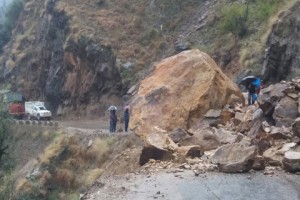 Data produced by the system
| | info |
| --- | --- |
| db_id | 6720 |
| cell | 2959_6138 |
| score | 0.478333333333 |
| timestamp | 2016-04-14 00:00:01 |
| latitude | 33.3115906 |
| longitude | 75.7662195 |
| info | {"Twitter": 7, "Total": 6} |
| details | Detail |